The jury of the Uutisraivaaja contest chose ten finalists to the second round. The finalists have four months to develop their idea further, and in August they will be presenting their projects to the jury again. The jury will then choose the winner or the winners in the contest.
Let's look at the finalists presenting their projects here: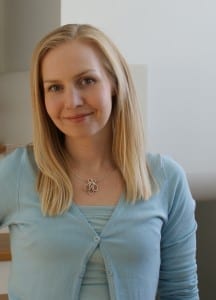 Virtual chain from field to your plate: Hanna Harilainen
Newscode: Jaana Kokkonen ja Lilli Linkola
Two projects combined
Virtual chain from field to your plate
Organic  and local food is a growing trend and the expected salvation of the Finnish food culture. Consumer is craving for more information of food produced in a sustainable way. The purpose of the project is to create an online service to improve the transparency of food supply chains and validation of sustainable production methods.  The content of the service is created with crowdsourcing method.
User logs into the  service with her smart phone or computer. Set preferences combined with location information help to alert the right consumers on foods in season and where to purchase it. User can search selected food item's supply chain including all involved tiers and distances travelled, availability and sustainability information all shown in a highly visual format. With this information the consumer can influence food production with his purchasing behaviour equipped with better selection criteria. Commercial players can create profiles for their companies and link them to the network allowing the users to e.g. search for a restaurant based on it's offering of local food.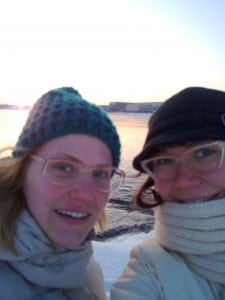 Newscode
Uutiskoodi ("Newscode") is a news search application that enables the customer to reach with a single touch an extensive up to date news flow on the whole production chain of a single product. Uutiskoodi works in close co-operation with the Virtuaaliketju pellolta lautaselle application to be able to provide the most detailed and accurate information regarding various aspects of the production.
The user of the Uutiskoodi application uses the camera of his/her mobile phone to read the bar code of the item he/she is planning to buy. After reading the bar code the application automatically performs several searches and pulls together in a single list all the news concerning the product in question gathered from various news sources.
The news can be further categorised in sub categories which can be personally customised, such as, production conditions and child labor, ecology and environmental issues, social responsibility and corporate ownerships.
Uutiskoodi facilitates good consumerism by enhancing decision making with a real-time newsfeed.
With the information provided by Uutiskoodi the costumer can value the suitability of a specific product to his/her ethical profile and adjust his/her buying habits accordingly. Our application also encourages the suppliers to a better social responsibility by granting their potential customers with an instant news flow of the positive undertakings the company in questions has performed.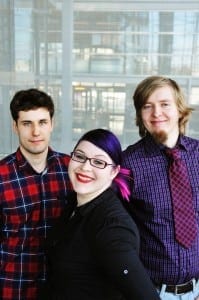 Team Collapick: Niko Lappalainen, Maria Pettersson ja Petteri Torssonen
The amount of material published under the Creative Commons license grows at an incredible pace, and an increasing number of commercial media and private individuals make use of Creative Commons materials. At the moment, finding and using Creative Commons licensed materials depends on the user's own knowledge and expertise. There are many different levels of license agreements, and a user unfamiliar with the subject may not understand them thoroughly.
Collapick is a software tool enabling the use of Creative Commons materials simply and efficiently, respecting the terms of the license and without the user having to become familiar with the nuances of various licenses. Collapick enables the user to pick Creative Commons materials from any website and use them on a site or a blog.
Collapick recognizes the license used and automatically includes the details required, for example the name of the creator and the details of the license. The software also warns the user if he attempts to make use of materials that are under a non-commercial license on a commercial website. This way the user won't accidentally violate copyright. We believe that simplifying complex license terms will interest both media businesses and private individuals.
A user unfamiliar with licenses may use Collapick to exploit Creative Commons materials reliably and within the bounds of copyright law, letting the software do the work. The amount of free, readily available information increases, it becomes easier to use and the possibilities for communication improve significantly.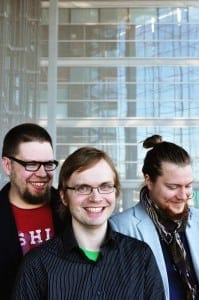 Get your facts right: Kimmo Mäkilä, Janne Ikonen ja Olli Sulopuisto
The aim of the project is to create a Finnish factchecking website (in the vein of Truthsquad, Factcheck.org etc.), which checks if the claims presented in the media or other public arena are truthful. The checking-process utilizes both crowdsourcing and a professional journalist team working for the site.
The user-interface of the site requires all visitors who wish to comment the truthfulness of a given claim to always present some source of information which verifies their comment (either a weblink or academic-style source note). This certifies that the crowdsourcing will produce useful and transparent results. The final judgment of a claim's truthfulness will be then summarized by the journalist team (which can also do factchecking on its own), but this process is made as transparent as possible – and thus open to further criticism and factchecking.
Furthermore, the results will be presented in a structured form which enables the website – and its users – to easily create summaries, charts and comparisons from the data.
The website has many different forms of revenue – the site can offer factchecking as an outsourcing-service to media or other parties, the journalist team can produce and sell news stories inspired by the findings and data on the site, and in addition there are earnings from web-advertising.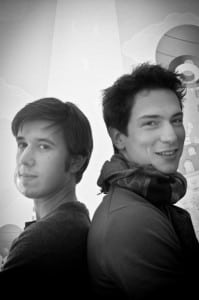 Influence Networks: Nicolas Kayser-Bril&Pierre Romera
InfluenceNetworks.org is an open-source platform that helps journalists and web-users investigate the relationships linking those who make the news.
It will provide a way to efficiently and reliably input data and access it.
A prototype was released in February, 2011, and can be checked out at http://app.owni.fr/influence-networks/ (user:owni, pwd:!umo). Visualizations work only for the relations in the database, which have to do with the ongoing investigation on uranium trade (try visualizing Areva's network).
Anyone can add data related to relationships between public figures. The links between people can be qualified using open-source ontologies, so that all data will be machine- readable and compatible with the semantic tools used to make the 'web of data'. Once the user has qualified the link and sourced its details, it is submitted to the community for verification.Ideally, a media will be able to call upon its community and ask users to input as much data as they can about relationships between the people making the news (e.g. political candidates).
Collaboration also extends to newsrooms. The platform aims at centralizing basic relationship information, so that journalists can share the burden of collecting commoditized facts and focus instead on what makes their work distinctive: analysis and contextualization.
Vetting information
Each piece of information has a 'trust level' that indicates its position on a scale going from rumor to certified fact. Every user can review a relationship. Once vetted, a piece of information sees its 'trust level' increase. The increase in trust level varies according to the trust level of the user who validated it. The trust level of a user increases when the data he or she input is validated by another member.
API and visualizations
The current prototype allows for simple visualizations. In future developments, we will add a widget to be embedded in the articles based on Influence Networks information.
The database will be accessible through an API for anyone to use. Once in place, the API will allow for much more ambitious use cases, such as a tool that maps the relations surrounding a particular project (every person involved in a construction work, for instance) or a tool that shows the key people who remain in the shadows, by comparing those for whom the ratio (number of relationships)/(occurrences in the news) is lower than average.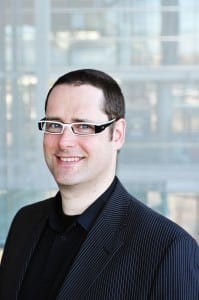 Gestures: Jos Schuurmans
My innovation idea for the Uutisraivaaja contest is called 'Project Gestures'.
News organizations need a better way to tailor their news and information to individual readers/users. A sophisticated way of building a personalized news offering is through the analysis of on-line social news gestures.
Gestures are ways in which web users interact with information that they encounter, thereby indicating relevance.
Gestures may include: subscribe, read, store, share, tag, rate, copy-share, send, comment, blog, micro-blog, pipe-through, link, approve/reject.
Every gesture contributes to a collective human news filter. The aggregate data can be used to inform a personal news offering to individual users.
For every pair of users in the system, the engine will calculate the proximity of their past gestures.
If user A and user B have a high proximity of past gestures, the next gesture user A will express will be highly relevant to the engine's recommendation of news and information to user B; and vice versa.
The personalized news headlines can be offered as a stand-alone service, or can be integrated in existing on-line news outlets.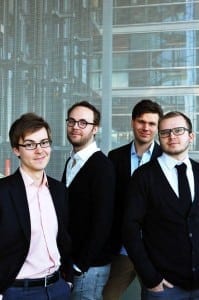 Team Murut: Lauri Eloranta, Aleksi Moisio, Petro Poutanen, Jussi Pullinen
Murut is a liveblog and a competition for those caught in the middle of a news event.
The audience of a hockey match or witnesses of a fire take photos and write bits of information about what they see, but they are now scattered all over the web. Murut brings these bits and pieces together.
The result is a news story that everyone can improve. Users earn points for their work, and in addition to honor the best might also get a prize. Built for both mobile and desktop devices, Murut is compatible with all major social networks and apps.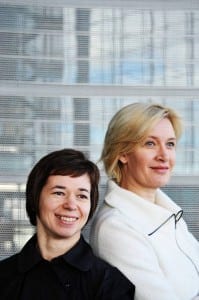 Huuhkaja News Service: Annikka Mutanen, Susanna Niinivaara
Huuhkaja News Service welcomes the growing change in the media world. A growing share of the public are less and less satisfied with their role as consumers of pre-packaged news, and display a growing craving to participate in shaping content and quality of the news they consume.
The Huuhkaja News Service responds to this demand. Huuhkaja employs social media in brain storming and news sourcing, while keeping friends and followers alike abreast of ongoing projects.
All Huuhkaja stories are then put together by experienced professional journalists. Which is why Huuhkaja is excited to offer opportunities to skilled journalists looking for new horizons. And that's also why Huuhkaja sees all media companies interested in quality journalism as future clients.
After publishing, Social Media will also be used to distribute each story to a wider audience. The goals is to develop a long life span for each story generating interest both before and after publication.
Team Naapurisopu: Torsti Schulz, Joona Lassila, Stefan Richter and Martin Richter
Naapurisopu 2020 brings community spirit to the new millennium. Simply put, Naapurisopu aims to create a microblog based on users' geographical proximity to one another. The purpose of the project is to achieve something that email, social media and mobile phones have not been able to do thus far: enable communication between people living or working in close proximity to one another, be they complete strangers or nodding acquaintances.
The Naapurisopu 2020 project will create software that people can use to keep in touch with the upstairs neighbour they always greet but do not know by name. Local shops, art galleries and corner pubs can use it to let nearby people know about events, and the band practising in the basement can finally find its first audience. At the foundation of Naapurisopu lies a new and more democratic network architecture, completely free of all controlling entities.
We will use wireless networks and devices that can be found in any home to create a messaging service based on geographical proximity. While reading messages from nearby people and businesses, users can decide for themselves which of these messages are important and forward them on to the people nearest them.
When users rate messages based on how interesting they are, news that is relevant to a wider area is spread further. Spring cleaning in the apartment courtyard is hardly interesting to people more than 50 metres away from the building, but a bar putting on a free concert during the Night of the Arts can reach neighbouring districts and new patrons when users pass along a message that piqued their interest.
Naapurisopu 2020 works like an electronic jungle drum or community radio. Users can send messages and decide who they want to follow and what is worth sharing. In this respect, Naapurisopu creates a new form of community spirit. For people who are the product of thousands of years of tribal culture, excessive individualism does not breed happiness. The basis for Naapurisopu is the age-old hope that people would keep in touch with their neighbours from time to time.
Team Huome.net: Johannes Koponen, Ville Sundberg, Mikko Koskinen and Juha Leppänen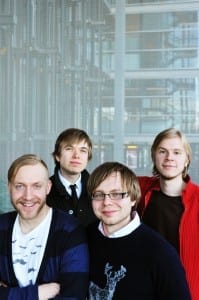 Do you know last.fm? We did that for news. Huome.net is the first fully automatic social news service that keeps newsreaders up to date on every piece of relevant news in the internet by letting them know what news their friends are reading.
Tired of having to manually share content and actively build your online presence? Tired of not knowing what to read? Or not knowing tomorrow's topics of discussion?
In Huome.net, news articles that the user reads on whitelisted news sites are automatically streamed for users' friends. You are what you read, and want to know how your friends are too. News that are socially aggregated by automatic processes are personal while being also social and meaningful. You know everything your friends know and you also have a reason for exploring news sites that they don't as you want to make the best personal news stream in town. To browse is to exist, and we kill the need to click.
The age of social automation has already started. We are a diverse group of ambitious professionals who want to build on the forthcoming trend. During the summer, we will launch an alpha version of Huome.net. When news pieces from friends are gathered automatically, we have a social cache in which you can see what your friends are reading and vice versa. We believe this to be the next big thing in the internet. It's not just about social media anymore, and it all starts without a click.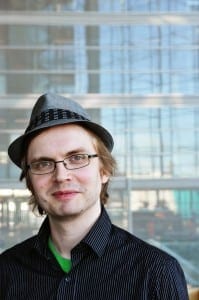 Omaradio: Olli Sulopuisto
Omaradio lets you build a personalized "radio channel" out of your favourite podcast episodes. You can you also add your own recordings or pre-existing audio, such as mp3 files. Omaradio is simple enough for anyone to use. You and everybody else can listen to your Omaradio broadcast with any device that supports podcasting.
In other words Omaradio is a way for building podcasts by curating material that's already out there. Personalized Omaradio channels can be of value to eg. traditional media and device manufactures (phones, home hifi, car stereos etc.).