The contest seeks ideas for renewing distribution of information and creating sustainable business models for journalism. The idea can be a new way to publish online, for example, or a new revenue model for publishing content. Application period runs until 17 January 2013.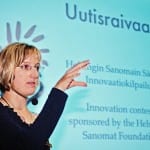 At the launch event on 19 September the contest coordinator Tanja Aitamurto answered to audience questions:
Q: Do I need to have a business model from day one for my project in order to apply?
A: You should have thought in advance of possible funding for your project. Hypotheses of the early days will however always change as the idea and prjoect develop. You only know from where the oney will be coming in by trying.
Q: How do I know if my idea is journalistic enough?
A: One good starting point is to understand that innovations which influence journalism do not necessarily always rise from the journalistic field. Take for instance services such as Twitter and Facebook which now have an impact on media and journalism. So the idea doesnt have to be strictly journalistic but in general enhance the distribution of information. For instance one of the finalists last year focused on the data of a food producing chain. Have a look at the finalists here: https://www.uutisraivaaja.fi/2011/03/29/ten-finalists-at-the-uutisraivaaja-contest/
More FAQs here:  http://uutisraivaaja.fi/ukk_en.html and info on the contest: http://uutisraivaaja.fi/home.html