We made a presentation about how Scoopinion can be used to scientifically research reading behavior at FINCOM2012. Read our blog post about the tool.
FINCOM is a Finnish seminar for a wide range of communication and media research. Our article which is to be published later was presented in a work group which was about communication research on the web. Of course, with a category that wide, the topics in the work group were rather diverse. Nevertheless, there was a solid common ground for discussions and also interest towards Scoopinion as a research tool.
If you are a researcher who might benefit from using Scoopinion as a data gathering tool, read the blog post and contact us. Scoopinion can be used to gather previously unseen data points in communication research, offering a novel opportunity for Finnish communication research to investigate upon.
Here is a comparison of English language technology blogs based on Scoopinion data: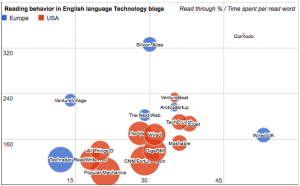 Size of the bubble is the average number of words in a story of this magazine. The vertical axis is the time spent per read word in the magazine on average, and the horizontal axis is the read through percentage.
The color of the bubble indicates if the magazine is based in Europe (blue) or in the USA (red).
There are many other possibilities with the data, e.g. comparing authors, readers, or individual stories.