Kuluneen kesän aikana RARE on painanut suunnitelmiaan ideoiden tasolta konkretiaan. On tutkittu, tuotettu, kuvattu, leikattu, palaveerattu, opiskeltu, väsytty, levätty ja häröilty. 
RAREn kesä kului vauhdilla ja paljon on tapahtunut. Koitan saada nyt muotoiltua jotakuinkin mielekkääseen muotoon, mitä kaikkea meidän kuukausiin on kuulunut. Puolet tiimistämme ovat kuvajournalisteja, joten myös visuaalista matskua on kertynyt. Se puhukoon puolestaan.
Toukokuussa kiersimme kouluissa haastattelemassa nuoria somesta ja median tulevaisuudesta, pidimme työpajaa kriittisestä kuvanlukutaidosta ja tutustuimme muihin nuoriin sisällöntuottajiin RARE Chillout -tapahtumassa Nokian Tehdassaaressa.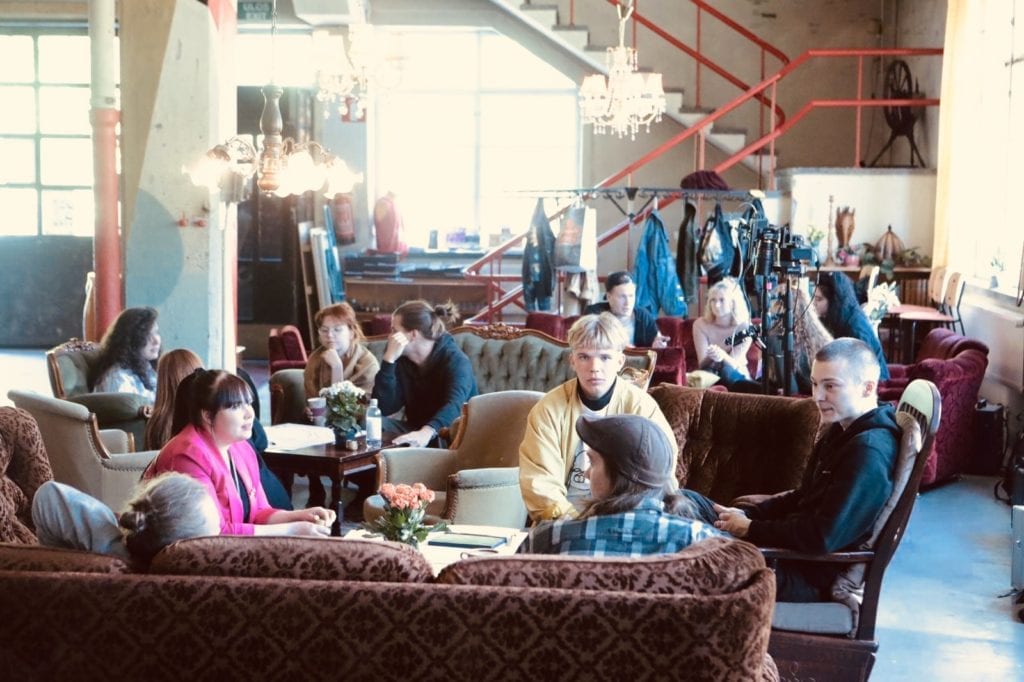 RARE Chillout Tehdas 108:n luovassa keskuksessa. KUVA: RARE Media
Kesäkuussa osallistuimme Design Forum Finlandin Strategisen muotoilun työpajaan ja pohdimme bisnestä RAREn takana. Kuvasimme, äänitimme ja editoimme myös ensimmäiset sisällöt valmiiksi julkaisua varten.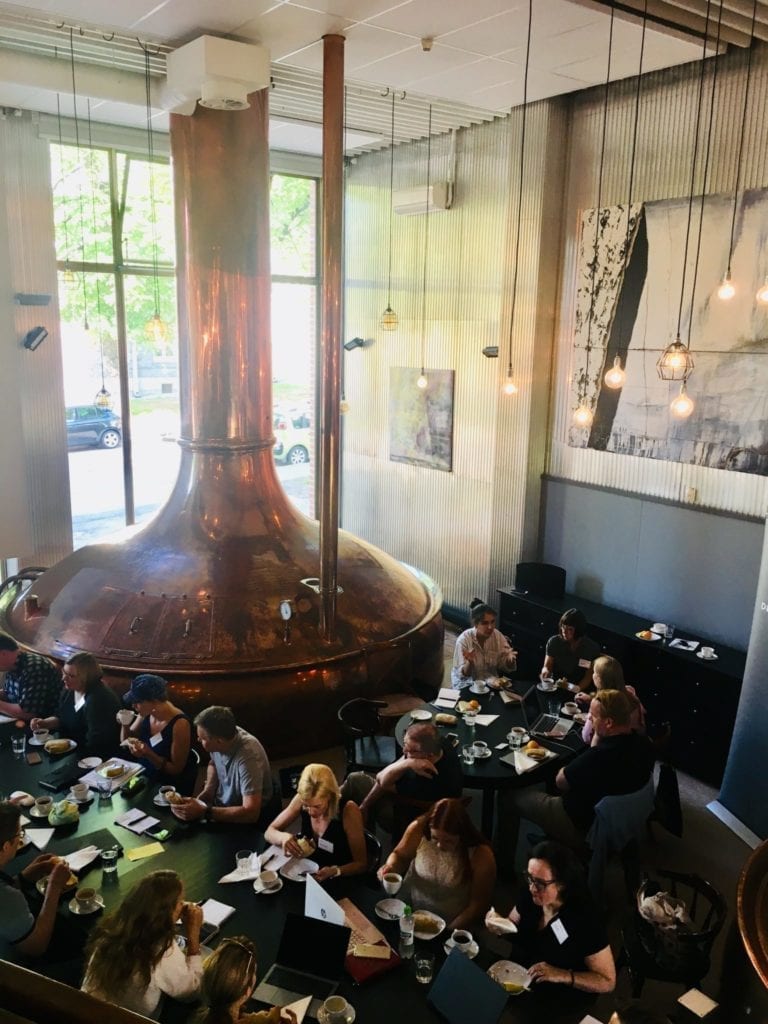 Orna ja Atro Strategisen muotoilun työpajassa Pyynikin panimon tiloissa. KUVA: RARE Media
Heinäkuun alussa julkaisimme ensimmäisen sisältökokonaisuutemme nimeltä RARE X DRAG. Haastattelimme nuoria suomalaisia drag-artisteja ja julkaisimme kaksi podcastia heistä. Loput kuusta kului konseptoinnin ja syksyn juonien suunnittelussa. Myös röyhkeetä lepoa otettiin.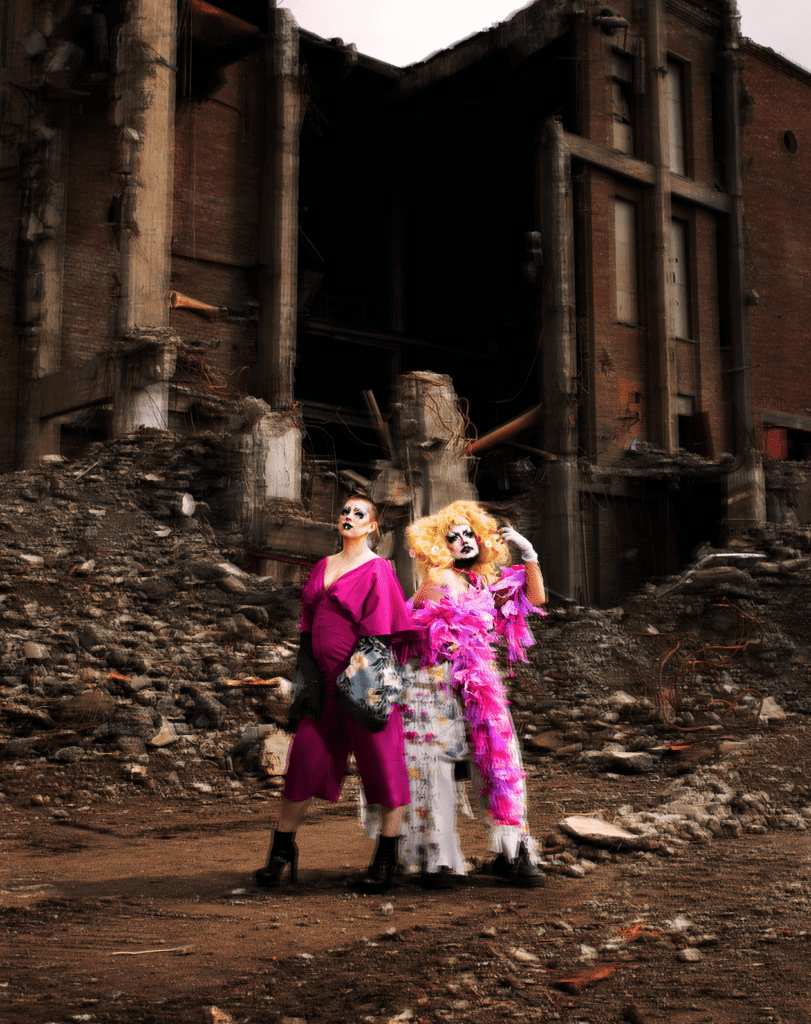 Drag-artistit Viha Piirakka ja Lady Clapback kertovat Suomen undergroud drag-skenestä RAREn podcasteissa. KUVA: RARE Media
Nyt elokuussa RAREn toinen ja toistaiseksi suurin sisältökokonaisuus näki päivänvalon. Julkaisimme kaksi Instagramin story-muotoon tuotettua lyhytdokumenttia, joissa lukiolainen Atte ja nuori taiteilija Mari kertovat ahdistuksestaan liittyen ilmastonmuutokseen. Julkaisimme samassa muodossa myös visualisoidun haastattelun ympäristötutkija Panu Pihkalalta, jossa hän kertoo tarkemmin nuorten ilmastoahdistuksesta ilmiönä.
Viikko huipentui Ilmastoahdistuspallo-nimiseen tapahtumaan. Rakensimme 16.8. Tampereen keskustaan Laikunlavalle Suomen suurimman ahdistuspallon, joka koostui maatalouden ongelmajätemuovista. Tapahtuma oli hiljainen mielenilmaus paremman ympäristön puolesta. Toteutimme tapahtuman yhdessä performanssikollektiivi Association of Free Associationin kanssa ja alueella oli äänitaiteilija Konsta Leinosen livenä luoma äänimaisema. Tilaisuus sai inspiraationsa haastattelemamme taiteilija Mari Kaakkolan Ahdistuspallo-teoksesta. Pallon lisäksi alueella pystyi kuuntelemaan tekemiämme haastatteluja aiheesta.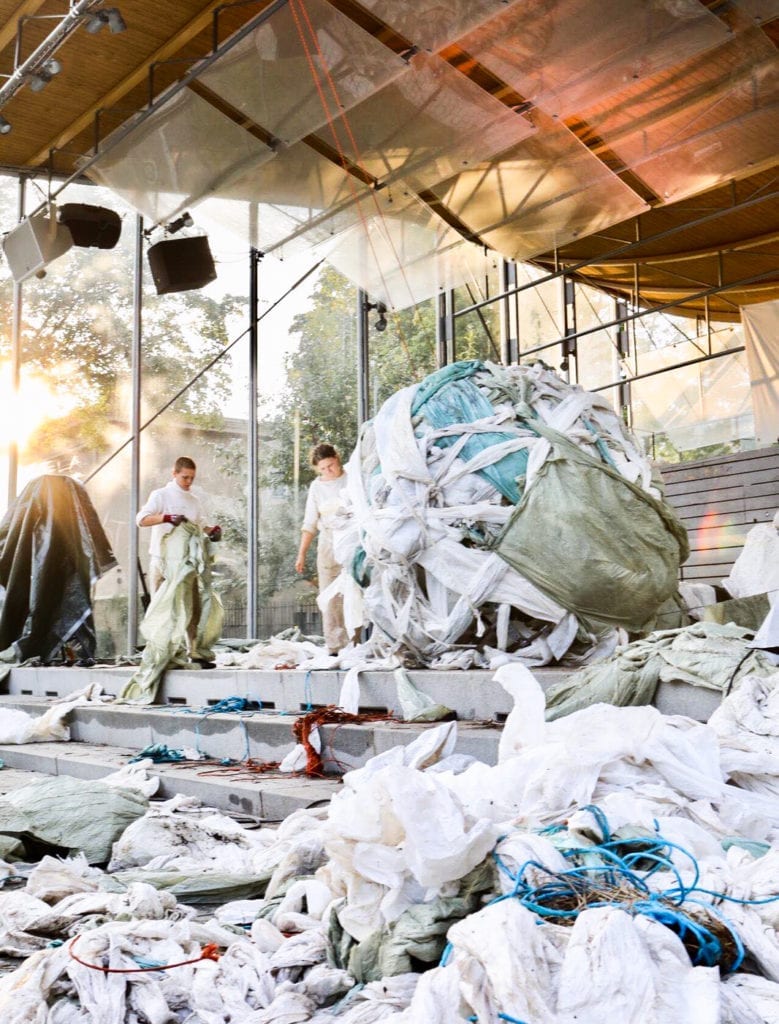 Ilmastoahdistuspallo valmistuu Tampereella Laikunlavalla. Kuka tahansa sai osallistua pallon rakentamiseen, ja väkeä riitti. KUVA: RARE Media
Suuret suunnitelmat ovat muuttuneet teoiksi ja mulla on ylpeä fiilis meidän tiimistä ja ihmisistä, joiden kanssa olemme päässeet työskentelemään. Ollaan opittu paljon niin nuorten toiveista mediaa kohtaan, eri julkaisumuodoista ja niiden toimivuudesta, kokonaisvaltaisesta brändistrategiasta kuin myös jaksamisesta, mistä viime postauksessa puhuimmekin.
Koskaan ei olla valmiita ja nälkä oppia lisää on kova! On ollut kuitenkin antoisaa saada kädet saveen ja todella nähdä, mitä tapahtuu, kun RARE on saanut konkreettisia muotoja.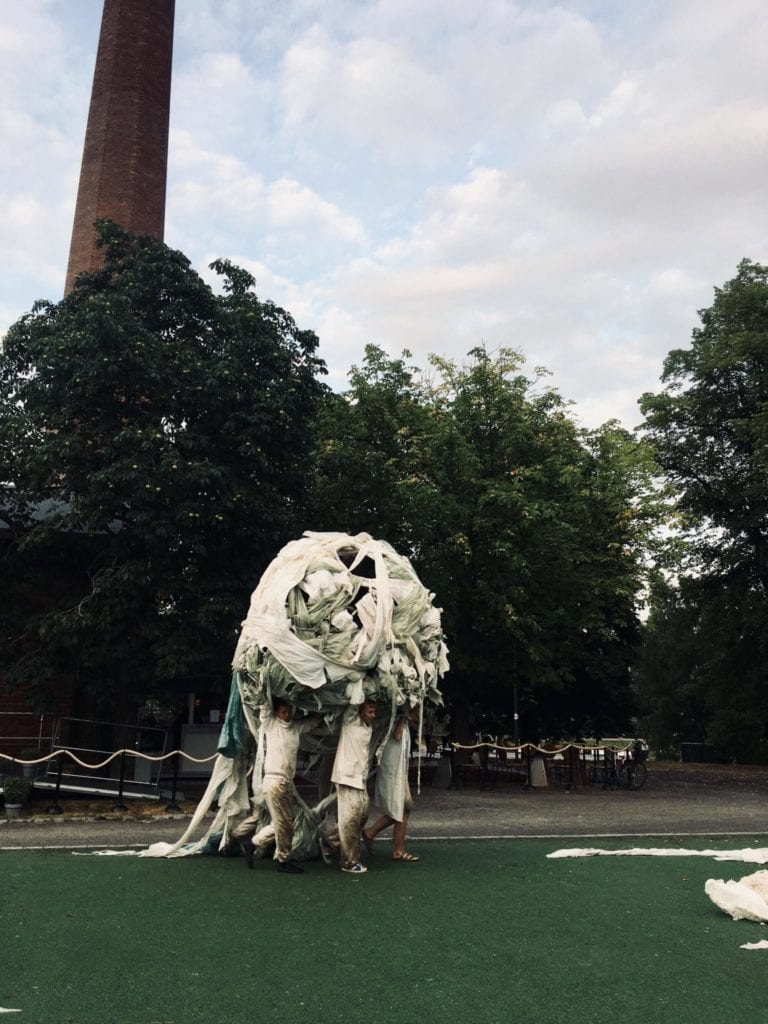 Performanssikollektiivi Association of Free Association kantamassa Ilmastoahdistuspalloa osana performanssia. KUVA: RARE Media
RAREn syksy näyttää kiehtovalta ja intensiiviseltä. Ennen Uutisraivaajan finaalia edessä on vielä yksi iso tapahtuma, joka käynnistää median kahden viikon mittaisen demokauden, jolloin julkaisemme sisältöä päivittäin. Siihen liittyy paljon valmistelua ja järjestelyä.
Visio tulevasta kirkastuu ja se näyttää upealta. Kesän vauhti ei hiivu.
Kirjoittaja on RAREn luova johtaja a.k.a. "HEFE" Vilma Rimpelä.
RARE on uusi media nuorilta nuorille, joka tuottaa laatujournalismia nuorten kulutustottumusten ja mielenkiinnon kohteiden ehdoilla.
Tutkimukset osoittavat, että journalismi ei tavoita nuoria. Me haluamme muuttaa suunnan. Unelmamme on julkaista nuorille suunnattu applikaatio, joka sosiaalista mediaa hyödyntäen tehostaa Y- ja Z-sukupolville kohdennettua tiedonvälitystä.
RAREn taustalla on tamperelaisia nuoria tekijöitä mediatuotantoyhtiö Rajasta, verkkojulkaisu Reunamediasta ja taide- ja tapahtumatuotantokollektiivi SWÄG ry:stä. Olemme medialaboratorio, joka tuottaa korkealaatuista mediasisältöä ja tutkii juuri nuorille ja nuorille aikuisille toimivimpia tapoja tehdä journalistista sisältöä.
@rareonkova